Magazine Archive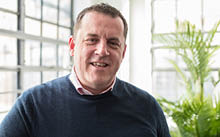 Welcome to the Autumn edition of Care Home Catering, which is full of best practice and inspiration to help you give your residents the best nutritional helping hand.
As we go to press I have just returned from attending the NACC's annual Training and Development Forum. There were some very interesting speakers and workshops, as always. Much was said about the state of care today and possible ways forward (care providers standing for Parliament? I've heard madder suggestions…). We'll publish a full review in the Winter issue, but I must just say a public goodbye to Neel Radia who announced that he was stepping down as National Chair of the NACC after six years in office.
We at Care Home Catering have completed the first stage of judging for this year's Care Home Catering Awards. The shortlisted finalists in each of the five categories are as follows:

The National Association of Care Catering (NACC) has appointed Sue Cawthray, Chief Executive Officer of Harrogate Neighbours Housing Association, as its new National Chair.
The appointment was confirmed at the association's AGM on 9th October as members gathered at the East Midlands Conference Centre, Nottingham, for the NACC Training and Development Forum 2019.