Magazine Archive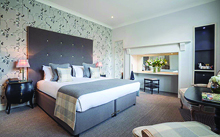 Welcome to the Summer edition of Care Home Catering, which is full of inspiring ideas and articles about individuals who are going the extra mile for their residents.
Click the front cover to view the full issue.
Come along to this year's Care Home and Hospital Catering Forum on 18th November and find out who the winners are in the Care Home Catering Awards 2019.

As the NACC crowns its 20th Care Chef of the Year, Sue Dunk talks to Chair of Judges Bev Puxley about the challenging nature of the competition and the way it reflects the changing face of care catering.