Operator profile: Borough Care
​Tony Gent, catering and hospitality manager at Borough Care, tells us how events bring their menus alive.

POSTED: May 18, 2022
When we speak, Tony Gent is busy planning how Borough Care's homes will celebrate the Queen's jubilee. There's talk of street parties, picnics and entertainment (including a particularly intriguing royalty-inspired costume), with a promise of a nostalgia-packed day.
"We continuously promote themed evenings within the various care homes, from Valentine's Day to Easter. The next one is a big focus around the Queen's jubilee, so I am coming up with different ideas which I'm going to be sharing with the team," he explains. "It will be a reflection on what the residents would have actually experienced with they were younger, creating something exciting and bringing them back to the days when the Queen was crowned."
As catering and hospitality manager, Gent oversees dining at not-for-profit Borough Care's 11 homes across Stockport and Staffordshire (soon to be 12, with Shoemaker Place in Stone on its way to opening). He's the first to admit he is still getting to grips with the role, having only joined in November.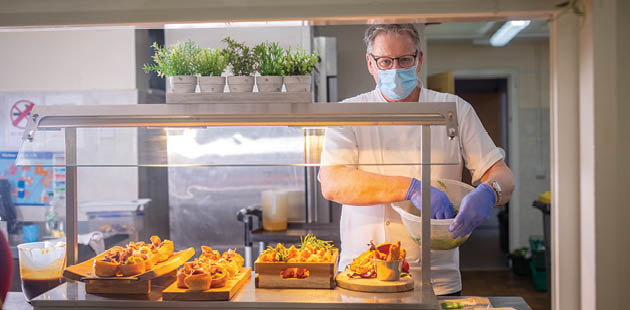 Each home at Borough Care has activity lifestyle facilitators
Two years prior, he moved to the UK with his family from South Africa, arriving just before Covid hit. He joined Borough with a wealth of experience, having turned his hand to various hospitality roles, including previous stints in care and hospital settings.
While the roles may be different, he says they are underpinned by the same thread. "At the end of the day we go into hospitality because we have a passion for food," he says. "That's why we are driven when serving anybody, because we have that passion to provide great food."
His current challenge is sharing that culinary passion with Borough Care's residents. The homes may be different, but each puts focus on the power of connection over food and drink – at Bruce Lodge there's a 1950s style café, there are pubs at Bamford Lodge and Cawood House (The Bamford and Cawood Inns, respectively), a Mad Hatters Tea Room at Meadway Court and a French-style bistro at Wellcroft.
It certainly reflects the operator's motto – Life in Colour. "Colour on a plate is a priority, as for many of those in our care, mealtimes can be the highlight of the day, and something they really look forward to," he says. "Bringing my colour to a plate of food is really important, particularly working in homes where the majority of residents have dementia. If I can put a smile on a resident's face I have succeeded."
He has spent his first six months at the provider meeting home managers and residents, building a rapport and getting to know their likes and dislikes. After all, Gent strives to make personalisation key – while Borough has recently launched new four-week menu cycles, Gent says they are different from home to home, changed depending on preferences there. Typical dishes might include corned beef hash for lunch, or vegetable quiche with beetroot salad and sweet corn, with options such as roasted lamb, with Yorkshire puddings and mint sauce, or chicken and ham pie topped with flaky pastry for dinner.
A focus on activities runs through the group – each home has an activity and lifestyle facilitator (ALF), described as "social butterflies and event managers, all rolled into one". Their role is to get to know residents and make sure they are experiencing enjoyable moments everyday – from dropping off a favourite newspaper or joining them on a stroll to the local shop.

The homes have weekly themed buffets
"To me, all we do is for the residents – we are in their home," he says. "It's for them to enjoy and have fun and be stimulated by. We need to create that excitement and create happy residents – you can feel it when you walk into our homes."
Gent says he works closely with the ALFs to shape menus around events, including their weekly buffets, which are run at every home. "The ALFs in each home will say 'I'm doing a cowboy theme', for example, and ask what I can do to help. I will design a menu around that. We like to get the residents involved as well – at Easter we did egg painting and Easter competitions in various homes."
Previous events have been themed around Greek cuisine, cheese and wine (served in a rustic, farmhouse style) and the circus. There are more permanent calendar fixtures, too – one home has a monthly afternoon tea, giving relatives, staff and residents a chance to catch-up, and classics such as Sunday roasts are menu staples.
Over the last few years Borough Care has focused on its catering for dietary needs. Last April, responding to demand, it partnered with charity Vegetarian for Life, after research with its residents revealed that many prefer to choose the vegetarian option. Through that link-up, staff received training on dietary needs.
"The catering team provides a high-quality service to residents, making sure that we cater for their specific and individual needs," Gent says. "This could be vegans and vegetarians, those with allergies, and residents who cannot eat independently. Serving food to our residents daily must include freshness and quality at a good price. This is to ensure that we are giving our residents great value for money and using top quality suppliers."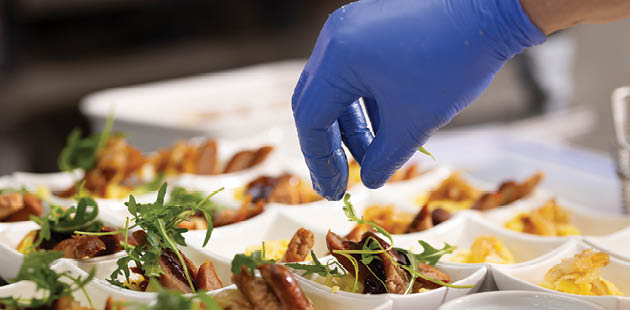 Gent serves up an afternoon tea-themed buffet
Gent says care catering has, in the past, been overlooked, but says the talent in the industry now should dispel stereotypes."Going back some years, people did look down on care homes," he says, "but over the years it has evolved and I think we now give people a really good option. It's having a passion for the food and love for the residents. If you can make their day by stopping and having a chat or making them a cup of tea, it's brilliant. I just love being around them."
For more care catering news and features, you can follow us on LinkedIn or Twitter.
You may also be interested in…