Charity's top tips for summer care menus
Charity Vegetarian for Life has shared advice and tips for caterers designing their summer menus.

POSTED: Aug 1, 2022
A charity which supports older vegans and vegetarians has shared its top tips for care chefs creating their summer menus.
Vegetarian for Life says that in summer - often a time when there is a greater risk of malnutrition and dehydration - residents may not have as much of an appetite for a large, hot meal. "Creating an opportunity for people to snack when they feel like it throughout the day, as well as serving smaller portions of meals as snacks, is a good way to keep people well nourished," it says, suggesting that chefs try offering lunch boxes with small finger foods.
"Have snacks available in the fridge to serve instead of cakes and biscuits. Include fresh fruit cut in small pieces ready to eat, perhaps placed in a small bowl so everyone could have an individual bowl of fruit," the charity says. "Create a different dining experience by serving a buffet-style dinner. Have food in large bowls on the tables so people could add (or ask to have) as much food as they like to their plate. This style creates more of a community feel around the table because people are sharing the food. There is also care involved for people sitting around the table, making sure everyone has had enough. Perhaps they may encourage each other to have more food."
Teatime could include protein balls which could be called cake bites, flavoured as brownie, carrot cake, lemon drizzle or Victoria sponge, with a dollop of jam in the middle.
Vegetarian for Life suggests using graze boards, which are popular in hospitality settings and are served as a sharing platter (though they can be for  one person) filled with picnic-style finger foods. "Food can be eaten with fingers, toothpicks or wooden skewers," the charity advises. "The serving board could be a chopping board, slate or tray. For large groups, a grazing table can be created, perfect when hosting friends.
"The food can be anything you like, from barbecue items such as burgers to salads, vegan cheese or crudités with dips. Accompany with chutneys, apple slices, grapes, figs, apricots, celery, caramelised nuts, flatbreads, crackers or anything you can put cheese on or dip.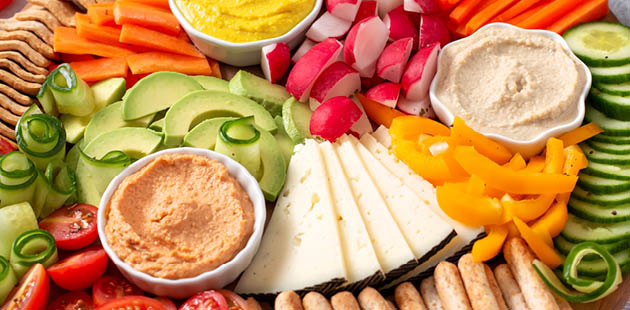 A vegetarian sharing board
"You could have a separate sweets board, or a large board to fit both sweet and savoury. Sweet graze board ideas include cakes, small cups of chocolate mousse, fresh berries and other fruit. You could make a tray of homemade ice cream served in paper cups, just like if you bought the ice cream from the ice cream parlour."
It suggests recipes to include on a graze board, such as roasted cauliflower tart, satay tofu, coronation 'chicken' style pie or kale crisps.
Elsewhere, the charity says small fruit skewers make a tasty, refreshing snack. Make them in the morning or in the evening and pop them in an airtight container in the fridge. It's a good way of eating a mixture of different fruits throughout the day. If you are using apples or bananas squeeze a little bit of lemon juice on the top to slow down the browning of the fruit.
Salads are a summer staple, but Vegetarian for Life says there are plenty of ways to bring them to life. Try adding chickpeas - you could pan fry them in a teaspoon of sesame oil and add a sprinkle of smoked paprika when they are cooling. Hummus can be put on top of a salad instead of dressing, while rice, lentils, edamame or green beans bulk out what is a light dish. Add herbs to lift your salad, it says, such as parsley, dill or coriander. Use spinach and rocket instead of gem lettuce for more nutrition and flavour. Roasted courgette, squash or cauliflower on a cooler day would make a completely different salad.
For more information on the charity and for inspiration, visit its website here.
You may also be interested in…