Interview: Meet Aaron Watson
Care Home Catering speaks with Aaron Watson, the winner of this year's National Association of Care Catering Care Chef of the Year award.

POSTED: Jan 6, 2022
The National Association of Care Catering (NACC) awards crowned their 2021 Care Chef of the Year in October. The exciting event, which took place during the official opening of the NACC Training and Development Forum 2021 at the East Midlands Conference Centre in Nottingham, saw three chefs take to the kitchens in an epic final.
After a tough battle, Aaron Watson was announced as the deserving winner of the coveted title. His Asian-inspired dishes left the judges very impressed, and they praised his "innovative, resident- and person-centred menu that expertly brought together delicious Asian flavours in a modern, exciting way, while showing a sound understanding of nutritional requirements". This is quite an impressive review from the judges!
In the final cook-off Aaron was pitted against fellow care home chefs, Matt Knott of Fernhill House Majesticare, Worcester, and Daniel Kavanagh of Green Tree Court Care Home, Lexicon Healthcare, Exeter, who took second and third places, respectively. The judges were very impressed with the level of cooking in the final from all three chefs.
The brief was for the three finalists to create a two-course, nutritionally balanced menu in 90 minutes that was appropriate to serve for residents in a care home setting. 
The combined food cost for both courses – which was a main course and a dessert - had to come to no more than £2.25 per head and this was based on three portions of each of the dishes. The menu also had to feature a product from the sector-relevant portfolio of this year's event sponsor, Unilever Food Solutions, so there was a lot to fit into the timeframe and brief that the chefs were given.       
However, all three chefs rose to the challenge and created some incredible restaurant-quality dishes that wouldn't look out of place in a high-end eatery.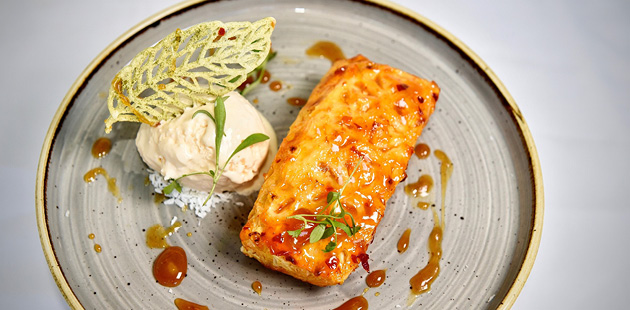 Aaron's winning menu included a main dish of honey and ginger glazed pork fillet, served with garlic and chilli pak choi, potato croquette, carrot purée and fresh apple, which sounds like something out of a Michelin-starred restaurant rather than a dish served in a care home setting. He followed that impressive main dish with an equally delicious-sounding dessert of sweet chilli roasted pineapple with coconut ice-cream and spiced rum caramel sauce. 
After he was announced the winner on the day, Watson said: "I thought the final went well for me, but the other chefs were so good I didn't dare imagine winning! It was fantastic to see what the other finalists were doing and to learn from their expertise too. I'm just very pleased to be creating food that puts smiles on people's faces."  
LEARNING THE TRADE
After the big event, Care Home Catering caught up with the Care Chef of the Year, Aaron, to find out all about where he gets his cooking inspiration from, where he learned all the skills required to be able to cook such impressive food, and how he comes up with his inventive menus.
He told us he was born and bred in Preston, Lancashire where he attended Fylde College, studying Professional Cookery NVQ Level 2 and Level 3. While he was studying, he also spent time working in the industry to gain valuable experience and to further hone his cooking skills. 
Throughout his career he also spent time working in restaurants carrying very impressive accolades, which no doubt gave him the experience of creating such interesting dishes.
"After completing my studies, I worked in several restaurants with both AA and Michelin accolades. I then spent a couple of years travelling and gained a love for Asian flavours, which still inspire my food today," he explained. 
This love of Asian flavours can be tasted throughout his dishes, which was one of the reasons the judges were so impressed with them.
"I returned to the UK in 2013 and opened my own business with my wife, Helen, who managed it while still finding time to take our crazy chocolate labrador, Fudge, for endless walks."
Then, it was back in 2019 where he decided he needed a new challenge which is when he was hired by Primrose Bank care home, which is an independent care setting in Poulton-Le-Fylde. He explained that every resident deserves to eat food to the high-quality standard he serves there.
He says: "Our aim is to offer restaurant-quality food that you might not expect to see in the care sector – but that every resident deserves – while still looking after the individual residents' dietary requirements."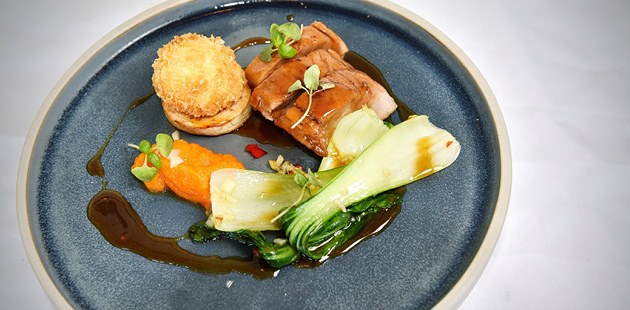 How long have you been working as the chef at Primrose Bank?
"I have been working at Primrose Bank Care Home in Poulton-Le-Fylde, Lancashire for two years now. This is 
my first post within the care sector, having previously worked in restaurants and pubs.
"It has been a bit of an interesting move, especially with the COVID-19 pandemic hitting the country just a matter of months after I started."
Your winning dishes sound incredible – what is your process for creating a new menu at Primrose Bank?
"We keep our menus seasonal, and we like to have as much input from our residents as possible. We manage this through meetings with the residents, as well as feedback and idea forms where they can write down the things they would like to try. 
"During lockdown, food was one of the only pleasures available to some of our residents, so it was important that we listened to their feedback before implementing the dishes. I practised my winning dishes and served them to our residents for lunch. 
"I was slightly worried if some of our residents would enjoy some of the Asian flavours that I personally love so much, but I was taken aback by how well the dishes went down with only a slight tweak needed to the main course to make it easier for some of the residents to eat."
What are the biggest challenges and most satisfying aspects of being a care home chef? Is it difficult to cater to such a wide range of diets?
"I find the biggest challenge of working in a care environment, compared to a restaurant, is trying to keep 40 or so residents all happy at the same time when they all come from different backgrounds, leading very different lives, and enjoying very different types of food. 
"Also, in the care sector you are catering for people with a large list of requirements, whether that is texture modified food, people wanting to lose weight, diabetic residents, and so on, and this can be challenging but is possible with good organisation, an understanding of individual needs and a little creativity." 
WINNING CARE CHEF OF THE YEAR
Aaron said he was really happy to win the Care Chef of the Year award, especially as he is fairly new to cooking in the care home sector, with his previous experience being in restaurants and pubs.
He explains: "It was an amazing feeling to win so soon after moving to the sector and a pleasant surprise after seeing the quality of the other chefs' dishes. 
He added that he doesn't really suffer from nerves too much as he is used to participating in cooking competitions. His biggest tips are to be as organised as possible, practise the dishes as much as possible, and plan for every eventuality. Not too much to do, then!
"I don't tend to suffer with nerves on the day of competitions as I competed in quite a few when I was at catering college," he notes. 
"I am very organised in the lead-up to a competition, as I'm a natural over-thinker I tend to think about every possible thing that can go wrong and how to fix it if it does. I think having every eventuality pre-empted helps in staying relaxed on the day."