Case Study: Chef Focus
As he approaches his eleventh year of working at PJ Care, Luke Tygrys dishes all on how he created his legacy in IDDSI food, one food group at a time

POSTED: Jul 7, 2023
PJ Care holds a high standard of quality and care, and is known for smashing boundaries, innovation and finding new ways to deliver their service to people recovering from or living with neurological diseases.
Setting award-winning standards for the care sector, they span over three sites. In Peterborough, the five-unit Eagle Wood Neurological Care Centre provides for 105 residents, designed to support those needing more medical care than in a traditional care home due to the complexity of their conditions.
Milton Keynes is the home of Bluebirds Neurological Centre, a bungalow site housing up to 25 residents at a time, that focuses on degenerative neurological conditions at all stages.
It is also the home of Mallard House Neurological Centre, a 54 bed house consisting of two units, both providing bespoke care for a range of neurological conditions.
HELLO, CHEF
When Tygrys went to college to train to be a chef, he crossed paths with Darren Klein, current catering manager at PJ Care, who happened to be teaching there at the time.
Cooking became part of Tygrys's life because his dad worked nights, and his mum would be busy around dinnertime. As the second eldest in his family, Tygrys took up the role of cooking dinner when everyone else was out. Naturally, this led him to pursue cooking more seriously. Almost 11 years later, he's now the shift lead chef working mainly in the Bluebirds building, serving 25 residents, while sometimes working in the other three kitchens under PJ Care.
THE EXTRA MILE
When creating the IDDSI millionaire's shortbread for the first time, Tygrys had a passion for "creating something out of nothing". Knowing all the elements required, paired with a sweet tooth of his own, he wanted to make a dessert that Level 4 residents could safely consume and enjoy.
"It was a case of layering each element on their own and then asking could I put them all together," Tygrys explains. "What really lights my fire is finding ways to turn classic dishes into dysphagia-friendly food. This job is allowing me to do that."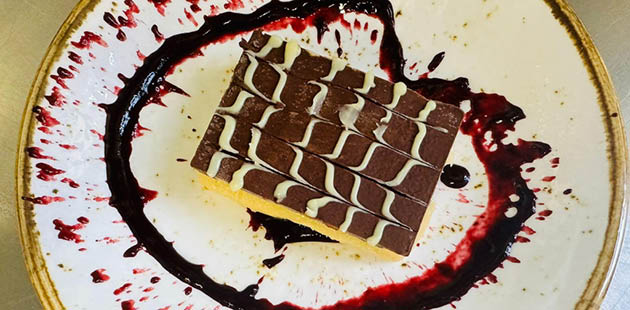 Tygrys created the Level 4 millionaire's shortbread layer by layer in a trial and error process
The process has been very trial and error for Tygrys and indeed he is building up his own legacy. After he finalised his millionaire's shortbread, he invited staff members across PJ Care to ask what they preferred the look of out of the Level 4 dessert and a normal slice. Many of them picked the level 4, the replica looking so much like the original dessert. He then invited them to taste test.
"There's been a lot of effort gone into each layer," Tygrys says. "The timings are needed to set it properly, even down to the caramel, because I went back and forth about how much more I could puree that down. Anything that I can get as a level 4 dish, I'll try, and with a goal to keep them as close to the original as possible."
With ambitions to take his methods beyond the Bluebird kitchen, he aspires to teach other catering teams how to complete desserts to a high-quality Level 4 standard. The next ones on his list are the starch food groups. Pasta, bread and rice are all on target to be tried and tested in order to bring deeply tasteful meals for Level 4 residents who might miss some of life's simple pleasures, like desserts.
IDDSI DREAM
With a passion for cooking in care homes, Tygrys, born in South Africa, has brought African Day to PJ Care with an extensive African-themed menu. Leaving a delicious legacy as he continues his career in PJ Care, he is truly aiming to achieve above and beyond alongside his catering team.
You may also be interested in…