MasterChef winner helps homes develop menu
BBC MasterChef winner Jane Devonshire has helped design Signature's new spring menu.

POSTED: May 5, 2022
Signature Senior Lifestyle has launched its new spring menu with the help of BBC MasterChef winner Jane Devonshire.
The menu, which will be served to the provider's 2,000 residents, was created by Signature's nutrition and hydration team in association with Devonshire and was launched at Hendon Hall, part of the operator's family of 36 homes across London and the south east.
Signature says it believes in defying the long-held perception of the quality of food served in care homes. To maximise resident engagement, and reflect the seasonal availability of certain ingredients, it changes its menu on a quarterly basis. More than two thirds of ingredients Signature uses are locally sourced in a bid to support local economies.
In addition to breakfast, lunch and dinner menus, Signature provides food and drink throughout the day, including through treat trolleys, overnight provisions or a fully-stocked café area in each home, available 24 hours a day.

The Signature starter and main dishes 
Its lunch menu includes starter options such as duck and orange pate with red onion chutney and salad, as well as smoked salmon roulade sourdough croutons and spring leaves. Mains include feather blade of beef, Bearnaise sauce, fondant potato, roasted tendersterm broccoli and coriander salsa, as well as beer-battered cod loin, home-made chips and tartar sauce, with mushy peas or petit pois.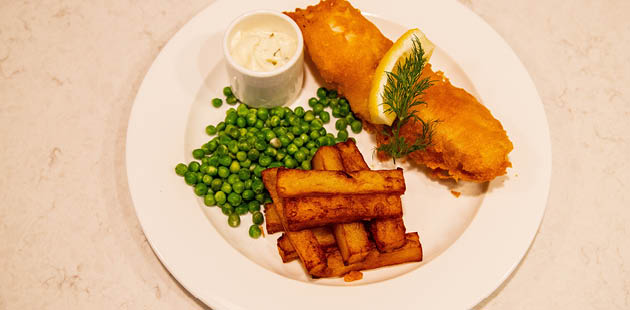 Signature's cod and chips
George O'Malley, group head of customer experience, says: "We are delighted to launch our spring menu, and believe it recognises the very important relationship between nutrition, hydration and care. Dining with dignity is extremely important, and this is an area that Signature is greatly focused on. The menu offering reflects the tastes of our residents, and can also be adapted to their specific care needs. Whether through providing assistive plates for our residents live with dementia, reconfiguring our plates to account for puréed diets, or taking into account specific dietary requirements, we passionately believe our food offering covers all bases."
Devonshire, who runs regular training sessions with Signature chefs which include MasterChef challenges to inspire their creativity, says: "It is a real joy to work with Signature, a care home provider that takes the time and the energy with its dishes, along with the attention to detail in the care it provides. It is important that the food on offer inspires the residents and also the chefs who work hard to prepare it. While nutrition and hydration have to be taken into account, it must have that flavour that excites residents.
"From my experience with my very dear nan, who was diagnosed with Alzheimer's, I am fully aware that all anyone wants is to see their loved ones cared for and responded to, treated with dignity. I believe passionately that, with the care Signature provides and the food it serves each and every day, there is something for everyone in this menu."
You may also be interested in…