A fine line: Keeping residents with allergies safe
An understanding of allergies is essential to keep residents safe. We consider the risks in care homes – and why you shouldn't assume they only apply to young people.

POSTED: May 27, 2022
As care caterers, it's fair to say you have plenty to juggle. Not only are you whipping up delicious meals, but you're also considering complex diets and nutritional intake. At the end of the day, we know your goal is keep your residents happy – and safe. Thankfully, when it comes to allergies, our knowledge has grown significantly in the last few years.
While diagnoses may be more prevalent in younger people, Jacqui McPeake, founder and director of JACS Allergen Management, says providers shouldn't think they don't apply to residents. "When we talk about allergies, people think it's a new thing," McPeake explains. "We have become more aware of allergies in the last five years, but the older generation recognised they couldn't eat certain foods – they might have said 'it doesn't agree with me' and that's as far as it went. You can also start an allergy at any age."
It's crucial to share knowledge within the care team and consider the avenues through which food enters the home, including gifts – McPeake says bath bombs, for example, can contain milk powder, while hand creams can be made with almonds. Cakes made with nuts brought in by a loved one would be dangerous for a resident with an airborne allergy. Communication with suppliers is also essential. "It is helpful to have an agreement with a supplier where if the manufacturer changes products or ingredients, which is happening quite a lot at the moment, care homes are notified," she says.
While there is now a vast market of allergen-free products, McPeake says they are useless if not prepared safely. Washing hands when preparing allergen-free food is essential and purple utensils and chopping boards are available to put chefs in a cautious mindset. "A resident may be gluten-free, but using gluten-free bread will not be enough if that bread is being cooked in a toaster where regular bread is cooked," she says. "We also need to think about fryers. If you have used one for fish and then for chips, the chips are now contaminated with the fish and gluten from the batter. We need to keep gluten-free food separate."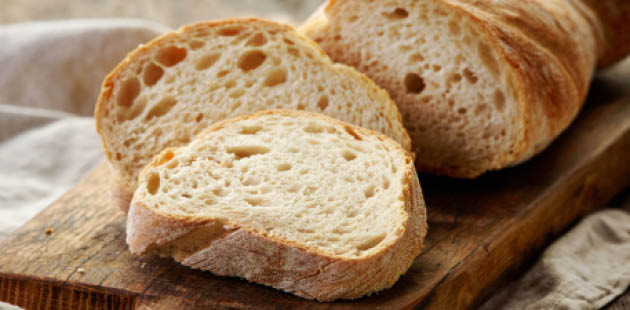 White Oaks' care home catering teams, part of the Compass Group, do not see a significant number of food allergies, says account lead Felicity Townsend, but provide free-from options on all menus. "To support this, we created a 'food passport', which details any specific food preferences and dietary needs to ensure that a resident is served exactly what they both need and will enjoy," she continues. "Alongside this system, we have developed training and guidance to make sure our people have the knowledge they need to provide meals that meet dietary requirements and serve great food."
Luckily, there has never been more choice when it comes to ready-made products, says Gordon Lauder, managing director of Central Foods. "Pre-prepared free-from frozen products are a particular bonus for caterers working in kitchens with social distancing in place and/or with reduced prep areas for free-from menu items," he says. "They reduce the number of touch points needed to prepare the dish in the kitchen, thus helping to cut the chance of cross-contamination." He advises opting for free-from varieties of popular products which will appeal to all residents.
James De Jong, development chef at Creed Foodservice, agrees that the free-from market is expanding. "Gluten intolerances and Coeliac Disease are increasingly common in the UK, and while it seems to be most prevalent in the younger generations, it's relevant to a care setting too," he says, adding: "And, as we see the next generation of residents in the baby boomer category need residential care, we'd only expect an increase in uptake of these types of products in a care setting." To minimise risk, some caterers choose to use free-from base ingredients, such as mayonnaise, across the board, he says.
The starting point for allergen management is ensuring staff are trained in the 14 key allergens and keeping a watchful eye on areas including hand washing, labelling and storage, he says, adding: "The most common instances where slip-ups happen tend to be when products are subbed in when the usual ingredients in a recipe are not available."
Ready-made products can alleviate some of challenges. Alison Smith, global product developer for Mars Foodservice, says its Ben's Original Professional and Dolmio Professional sauces can provide a range of solutions. "Whilst many food products are now free-from, it can be hard for caterers to find a complete range of products which are suitable for catering to the needs of residents that suffer various allergies or follow different diets," she explains.
"Busy chefs working under pressure to accommodate a range of food intolerances or allergies need to be able to rely on their ingredients to produce meals which both appeal to residents and meet a wide range of dietary requirements," says James Lewin, marketing manager at Tiger Foodservice. He says its new Product Information Management System means chefs can access detailed allergen and nutritional information.
Andrew Pond, business development director at Civica, which owns and operates the Saffron catering management software, agrees that attention to detail is key. "Allergen management is a matter of life and death and getting it right is critical. With an auditable, reliable catering management system, care home caterers can have complete confidence that their processes are compliant – and save time too," he says.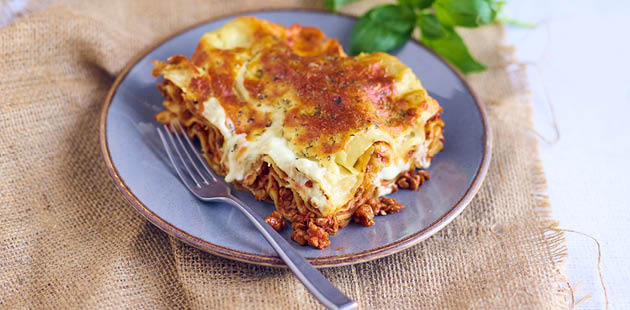 KaterVeg's plant-based lasagne
Think drinks
Care staff shouldn't limit their caution to food – from gluten and milk to nuts, drinks also contain potential hazards. Michelle Younger, head of marketing at Aimia Foods, says: "Fortunately, there are now an array of free-from products that caterers can use in care home settings. Still, many caterers assume that a free-from product will always taste different to the original version. However, thanks to recent flavour focused developments in the free-from category, caterers can now match the taste and even texture of original versions." Younger, and colleague Karen Green, marketing manager at Aimia, say its plant-based products, such as vegan Horlicks and Iglooh, are popular dairy-free options.
Goodbye gluten
Around one in 100 people have coeliac disease, an autoimmune condition caused by a reaction to gluten, while 10% of UK consumers follow a gluten-free diet. Chefs should be mindful of gluten in everyday items including bread, pasta and gravies. Joel Carr, development chef at Young's Foodservice, says: "For care home chefs, it's important to ensure that there are gluten free options on the menu, and Young's Foodservice has the ever-popular fish finger available in gluten free variants."
Often containing gluten in flour, as well as dairy and nuts, sweet treats can present risks, and the shared nature of cakes and bakes means caterers should pay close attention. At Tipiak, international development project manager Marie-Emmanuelle Chessé says: "Recognising the growth in allergen-free requirements, and the importance of this sector, Tipiak invested in a dedicated unit to produce gluten-free macarons." The macarons are accredited by the Association Française Des Intolérants Au Gluten, the French equivalent of Coeliac UK.
Chefs should consider stocking up on frozen options, according to We Love Cake. "Suppliers can help through providing individually wrapped, frozen goods to eliminate the risk of cross contamination and reduce waste because you need only remove enough product as required depending on how many residents have allergies."
Ultimately, mistakes can be devastating. Managing allergies comes down to constant communication and organised processes and operators should ensure they are avoiding risks.
Natasha's Law
Having come into effect in October last year, Natasha's Law requires food outlets to provide full ingredient lists with clear allergen labelling on pre-packed for direct sale (PPDS) foods. It applies to care settings which sell PPDS food, such as in a café or restaurant.
A marked increase
At the Four Seasons Group, food development chef John Bridgeman says the number of gluten and allergy-free diets has steadily grown, with a marked increase of around 10%. He says chefs aim to offer dishes that can be enjoyed by everyone, with allergen-safe tweaks made where needed.
"In order to manage allergens and cross-contamination in our kitchens, every home has an allergen folder listing every recipe with details of any that contain allergens," he says. "To support our kitchens, we also operate a Food Safety Management System, which is constantly reviewed to instruct food-handlers in the correct procedures to follow and in preventing any cross-contamination."
For more care catering stories, you can follow us on LinkedIn and Twitter.
You may also be interested in…