Big Read: Interview with Paul Wright
From Michelin-star restaurants to owning his own catering business, Paul Wright has seen a lot in his career. Now, running a two-person kitchen in Prospect House, he's found more challenges than he expected when he first walked through the doors

POSTED: Jul 3, 2023
Chef Paul Wright has gone from Scotland to Chester, shaking hands with star-studded names in the catering industry, his life weighted with experience and integral knowledge. But all of that had to be readapted when he found his most recent challenge: being the only chef in a care home in Malpas, Chester.
With his starred background and own business, Wright has come up against his fair share of barriers since catering for the residents, including the harsh conditions of the 2020 lockdown. However, he found a way to support the residents of Prospect House and help them 'cruise' through the isolation as much as possible, in quite a literal sense.
SETTING THE SCENE
Wright's career kicked off at Gleneagles in Scotland, a five-star luxury hotel, where he worked with chef Bruce Sangster, and the doors of fine dining were opened for the first time. After mapping across a few Michelin-starred restaurants, he ended up as chef de partie at the Chester Grosvenor hotel, for more than five years, until choosing the family life prompted him to settle for a while at a hotel called Soughton Hall.
During this time, he was approached by Jeremy Woodward with a proposition to open gastropubs. "It was new back then," Wright laughs. "I mean, everyone's doing it now but we ended up with six sites. Overall, that took about eight years to achieve."
Following from that came Wright's time as an executive chef at Chester racecourse, and as he says himself: "I've done all sorts of catering for many years."
RESIDENTS TAKE A CRUISE
"Initially, working as a care home chef was actually a favour for a friend," Wright says. "He didn't have anybody to cover Prospect House; it was only 20 minutes down the road from me, so I took a chance."
After only a week and a half, the matron asked if he would consider going full time. At the time, Wright had just launched his own fine dining company called Arkle Catering. After back and forth and meeting some demands from both sides, Wright now finds himself four years into his career at Prospect House.
In such a vastly different catering role, many barriers seemed to rise. Wright says: "My head was running wild, to be honest. I wanted to know why couldn't we do this, or why couldn't we do that? I wanted to bring residents beyond the stews and the blander cottage pies. I wanted to know why we couldn't do more for them while keeping their nutritional content in mind. For me, Covid-19 opened the door to an opportunity."
Priding himself on the proactive approach he has with the residents, Wright wanted to instigate theme nights into the home, where there previously hadn't been any. He'd gained a lot of trust from the residents over time, able to introduce them to new menu items such as moussaka, which, Wright says "a lot of residents hadn't heard of", as well as bobotie, a South African meat dish.
"When Covid happened, a lot of them came to me and asked why they couldn't go outside," Wright says. "It was heart-breaking. They saw me coming and going and wondered why they couldn't do the same. They said how they watched staff go home, driving past the window."
Saddened by how restrictive those times were, on top of the loneliness that can sometimes be the case with care homes, an idea sparked and took off, a way to integrate colour and something to look forward to during the awful lockdown. Soon, a restaurant was made for the home, beyond a simple eating space, and from that restaurant was born the concept of a cruise ship for residents every week.
"We were going around the world, dining at particular restaurants they may have visited had they properly been in that country," Wright says. "Oh, it could be difficult, because I've never been to the likes of Mexico, so I'd be researching dishes I could create for the residents and once we decided on countries, we did as many as we could.
Soon, Wright found himself running out of countries to keep creating a varied menu, so as a joint effort between himself and the activities team, he brought his fine dining background to the home to create a tasting menu. Greeting the residents with a cocktail or wine upon arrival into the restaurant, the 'Gourmet Night' comes around once a month. The tables were decked out with centrepieces and candelabras, the experience jazzing up the care home as much as possible to recreate a fine dining restaurant.
Since then, the cruise concept has become an established 'Gourmet Night'. Provided with fine wines to pair with their dinners, Wright gets to see how his work can take them back. Residents have asked for the bill with the way the whole dress-up of the event sends them back to memories of restaurants. 
With no respite from the overwhelming, daily wave of news about Covid-19, Wright's mission to provide that escapism to residents worked wonders to give back a sense of community that was slowly being pulled away by the lockdown.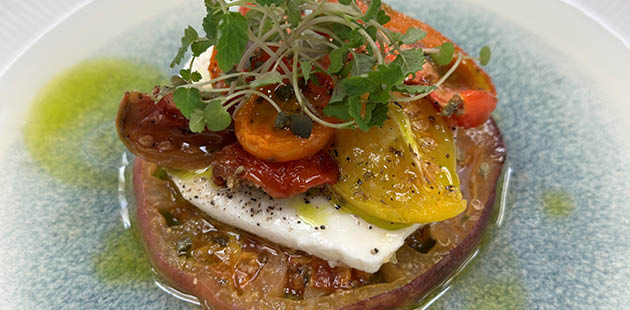 Paul Wright brings his fine dining flair to Prospect House to create high standard meals for all residents, from IDDSI to Level 7 plates
A LITTLE EXTRA ON THE SIDE
"Not everyone knows me as Paul the chef," Wright laughs. "Some residents know me as the ice cream man."
Utilising a mobile ice cream cart, Wright dons a different apron and chef jacket, queues up the old nostalgic ice cream jingles on his phone, and brings a piece of residents' childhood back to them with a good old fashioned scoop. It's not just about giving back what residents may have lost from typical summertime but providing something joyful, something that's just a bit extra onto their normal day.
"We'll serve them sherbet and sprinkle, with the sauce and everything, you know the way you would with a proper good ice cream."
On top of that, to help residents reconnect with elements they can relate to at Prospect House, when the care home's 'sweet shop' comes around in a similar fashion, the team whip out the old fashioned measuring scales, complete with the sound of tipping because, in Wright's words: "If you're going to do it then you have to do it right."
A REWARDING CAREER
Despite his star-studded background and extensive knowledge of gourmet catering, Wright remarks on how working as a care home chef has been intensely rewarding due to the honesty and enjoyability that the residents will show.
"You don't really get accountability in fine dining," he says. "You never really know if people are being as honest as you need them to be. You know, did they really enjoy the food, or are they being polite? The residents at Prospect House keep me accountable. Sometimes, tomato ketchup is still ketchup, even in fine dining you know, where nobody will want to say that, yeah, it's ketchup."
Even against the backdrop of his vast experience and status, the care home brought its fair share of challenges, new lessons, and methods.
From learning the intricacy and delicate nature of IDDSI meals to managing the cooking alone, Wright says how his career in Prospect House could never be considered "retiring himself". When he needs the weekend off, he can have a joke with the weekend relief chef over who's roast dinner the residents like most.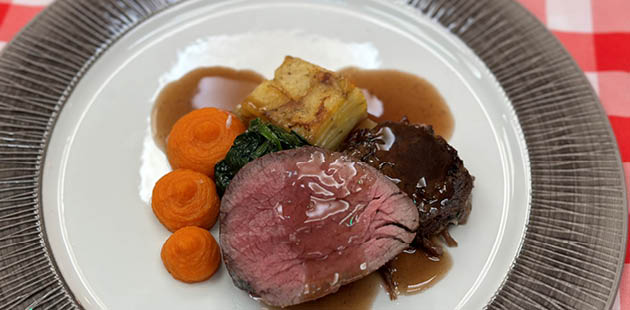 A roast dinner at Prosepct House, complete with different meat on rotating menus and potato dauphinoise
For his efforts, Wright has been awarded with the National Chef accolade at the Great British Care Awards 2023.
"I didn't know what to expect," Wright says. "I'm a fine dining chef in a care home, I'd never been in the sector before. The whole process was like an interview with three judges interviewing at the same time, asking me questions to ensure I'd actually cooked the meals myself, and I'd never gone through a process like that. Usually it was regional or national heats, cooking directly for the judges. But food is a massive part of the residents' day, so when people start telling you what a massive difference you're making, it really makes you think. Care home restaurants should be catered to with as much quality as restaurants have provide."
A GRAND TOUR
So while Wright's been across Chester and further North, from the racecourses to five- star hotels, he's more than happy in his career in Prospect House. Making sure that he can serve the staff some meals as well as the residents, whom he also asks to write on a board what snacks they'd prefer for that day, he ensures he goes all the way in providing extra service, care and quality for every resident. While he may have run out of countries to take the Prospect House cruise ship to, the fact that these nights are created and keep going ahead with the same flair as a fine dining restaurant is a testament to the growing legacy Wright is creating there.
Whether it's being the ice cream man, the sweet shop owner, the fine dining chef, or from Arkle Catering, Wright's vast knowledge and ideas are making their way through Chester to spark imagination and inspiration. But most importantly, he gave residents something to look forward to during the tough lockdown days. While they might be over, the average person suffered; care homes took a greater hit in terms of loneliness and restrictions. Wright brought colour and joy back to the halls of Prospect House in a mission to keep up the spirits and it's been a job well executed.
You may also be interested in…