Food waste latest change for home's sustainability group
The Oaks Care Home in York is leading the way when it comes to sustainability with its innovative system for food recycling.

POSTED: Jan 12, 2022
Living sustainably has never been more important as the world attempts to tackle climate change and protect our planet for future generations.
Recycling has been a key movement in helping with that for several years now, reducing the amount of rubbish ending up in landfill. But one care home in York is taking things even further by recycling their food waste.
The Oaks Care Home in New Earswick, which is run by the Joseph Rowntree Housing Trust (JRHT), has been recycling their food waste for the first time, thanks to their Sustainability Group spotting an opportunity to make a big impact in their recycling system.
Prior to this, the care home didn't recycle their food waste at all as it wasn't something that seemed doable. The large care home is placed at the centre of a thriving retirement village community, which houses around 400 people in separate bungalows Therefore, naturally there was a considerable amount of food waste between the care home and the retirement village. 
To recycle food previously, The Oaks Care home would use a macerator – a machine that chews up disposable food and flushes it away as waste matter – to dispose of any waste food. This is a popular way to dispose of food waste, but it isn't very environmentally-friendly or sustainable.
However, when it became time for this machine to be replaced, The Oaks Sustainability Group stepped in and offered an alternative plan.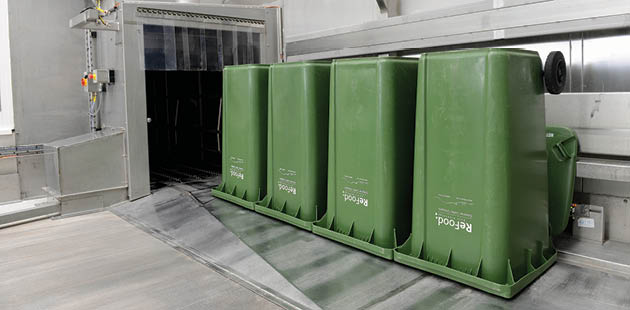 The Oaks Care Home has been recycling its food waste as part of its efforts to become more sustainable
The Sustainability Group, made up of both residents and senior JRHT staff, had already implemented sustainable changes in their community. Some of these changes included the installation of solar panels on the Oaks Care Home building – as well as encouraging several of the bungalow residents to do the same – and ensuring LED lighting was installed throughout the care home. 
The Sustainability Group decided that the food needed to be recycled rather than disposed of, and now the macerator was out of action, it was the perfect time to make some changes. They brought ReFood on board to take waste food away to their anaerobic digestion site in Doncaster and recycle it there.
The clever process turns the food waste into energy which provides gas and electricity to thousands of homes each year, with the remaining waste 
used as bio-fertiliser for local farming and agriculture, meaning that nothing is wasted or ends up in landfill sites.
The Oaks also provided extra bins to the residents living in the bungalows so they could use suitable food waste as compost to use in their gardens and on-site allotments, meaning that the site is becoming sustainable in all areas.
Sustainable living for care homes
It is important to be living as sustainably as possible and there are certainly ways that this can be achieved in care homes, even by making small changes day to day.
Here are some of the changes that care homes can make to become more sustainable – and that can even save some money in the long term:
Go paperless: Or less paper if possible. This can save several thousand pounds a year and as a bonus, it'll save the trees too. So that could mean keeping more files on the computer where possible and not printing wherever possible.
Install motion sensors: This could be sensors for opening doors and turning lights on and off when required so energy isn't wasted.
Check the building's insulation: With heating being one of care homes' biggest bills overall, it makes sense to ensure the building has the correct amount of insulation. This can easily be checked by professionals and if it's lacking then adding more insulation will help save on heating bills.
Switch to LED lighting: They are energy-saving, and they last so much longer than the halogen bulbs. This means they are better for the environment and cost less money overall.
Install solar panels: These come at an initial cost but will save lots of money on energy bills and whatever isn't used by the care home can be used by others. 
Invest in renewable energy technologies now: There are many schemes and ideas out there that will lead to a more sustainable care home, and they will be there for the future.
You may also be interested in…