Chef focus: Ovidiu Cimpeanu of Clarendon Lodge Care Home
Ovidiu Cimpeanu of Clarendon Lodge Care Home in Rickmansworth talks to Care Home Catering about creating his menu and how it is a collaborative process.

POSTED: Jan 11, 2022
With almost 10 years' experience working in the care industry as a chef, Ovidiu Cimpeanu knows how to create a menu. As head chef at Greensleeves Care's Clarendon Lodge Care Home in Rickmansworth, he feels the best way to create a menu is to get to know the residents and find out their favourite dishes. 
When he creates a new menu he also wants to ensure the residents have a choice when it comes to mealtimes and don't just have to eat what they are given, so he makes a real effort to be creative, make sure there is plenty of choices, and listen to what the residents have to say.
"Residents should feel like they are at a restaurant, and they should have a choice of dishes," Ovidiu explains. "I take pride in building my menus based on the residents' likes and dislikes, which are just as important as their dietary needs."
Having come from a military background in his home country of Romania, he decided to make a drastic career change when he moved to the UK. He has now been in the head chef role at Clarendon Lodge Care Home since April 2021.
"I have always been passionate and curious about different cuisines, hence why I changed gears and I tried to get into the hospitality industry," he says. "I was given a great opportunity with a different company to join a chef academy and all my knowledge gained I put into practice, but also, I had great mentors who taught me on the job."
The menu at Clarendon Lodge is served on a four-week rotation, which ensures residents receive a good variety of dishes and keeps things interesting, which means they are more likely to eat the food. 
"I will always use fresh food instead of frozen. The nutritional quality is extremely important, and the residents' wellbeing is heavily impacted by what they eat. My food is their power!"
The menu is also seasonal, and the home is now proudly serving its autumn menu, which makes use of the fresh produce on offer. Dishes currently being served include various pies, roast dinners, and enhanced calorie soups, featuring vegetables such as swede, carrots and peas. It is all about the warm, hearty dishes for the colder months.
In terms of creating his menu, Ovidiu ensures it is a collaborative process and has meetings with the staff, residents and the residents' families to ensure everyone's wants and needs are catered for.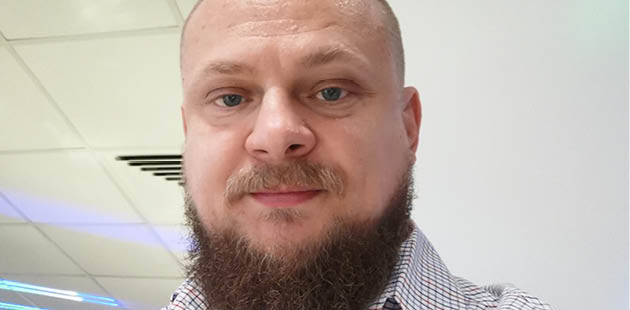 Clarendon Lodge care home's head chef Ovidiu Cimpeanu
Ovidiu says: "Nurses and carers are very important in the design of the menu as well as the catering team, as diet is so integral to a resident's care. We work with external organisations such as SALT [Speech and Language Therapists], dietitians, and the residents' families as well."
When it comes to creating dishes that dementia sufferers can enjoy, Ovidiu says he works closely with them as a lot of their favourite dishes involve memories from earlier in their lives. 
For example, a resident might remember a favourite dish from their childhood, and Ovidiu's team will be happy to create this for them, as it sparks emotions and promotes discussion surrounding the memories 
of the dish. It also means they are more likely to eat the meal.
"Many of our residents' childhood memories about food involve rationing during the Second World War," Ovidiu explains. "Therefore, many of these dishes can be quite simplistic and traditional. This highlights the fact that it's not always the fanciest dishes that can promote residents' wellbeing."
He notes that it can be quite difficult to create a menu due to the restrictions of some residents, and especially so when it comes to people with dementia as it can take a little more time to ensure the best dishes for them areon the menu. 
"After talking to them, their guardians, and their named health care worker, I would have some knowledge about their wishes. Taking into consideration all the information I have been given, my job is to create colourful and attractive dishes which smell and taste delicious. I once proposed the dish Mezzaluna (half-moon-shaped pasta) at a menu planning meeting, to the residents' confusion. Once I explained what it was, they were willing to try it, which was great."
While he knows this job inside out after having spent so many years working in care home kitchens, he stresses that he is still learning new things from the residents every day. 
He describes the satisfaction he gets from seeing everybody sat around the table, socialising, and enjoying his food as it makes all his hard work worth it.
"It can be a difficult job because of all of the intricacies involved, but believe me, it gives you the best job satisfaction ever."
You may also be interested in…