Case Study: Country Court UK
Following the opening of Hermitage House in Thrapston, Care Home Catering sits down with Steven Ireland, hospitality operations manager at Country Court UK

POSTED: Jun 19, 2023
Country Court UK is a care group that operates 34 care homes across the UK. The group was founded in 1983 by Roshan Bogha and Abdul Kachra, who remains the current CEO. What started out as a single care home, Beech Lodge, in Holbeach, Lincolnshire, has now grown to be one of the UK's leading residential care providers.
With core values of kindness, compassion and dignity, Country Court's expansion has seen the opening of luxurious care homes housing over 2,000 elderly residents. From smaller homes housing less than 50 residents to the larger developments that care for more than 100, the care provider certainly faces its challenges but finds ways to keep thriving and achieving.
HERMITAGE HOUSE
Since Hermitage House's opening, the care home has seen the day centre, Devika, established within. On top of that, it has 67 bedrooms fitted with en-suites, walk-in shower rooms, and views onto either the street or the garden.
On-site is a cinema and pub, both of which can be unusual for a care home to have, but serve to provide that extra home-from-home comfort for when residents can't go out and about as much as they were once able to. Having facilities like these can give residents those experiences back, bringing comfort and socialisation to their normal routines.
On top of that, Hermitage House features a private dining room where bespoke menus are simply waiting to be made for birthdays and other special occasions. Generally, residents can eat their meals in the standard dining room which provides socialisation in a bright, fresh area. The tables are laid out like those of a restaurant, staff are on-hand to serve and help, and excellent food can be eaten together.
The home's leisure facilities also include the Bamboo Bar, a hotspot for residents to host coffee mornings and relax in a forest-themed retreat. Serving hot and cold beverages as well as cakes and bakes daily, the Bamboo Bar has become a staple point of community.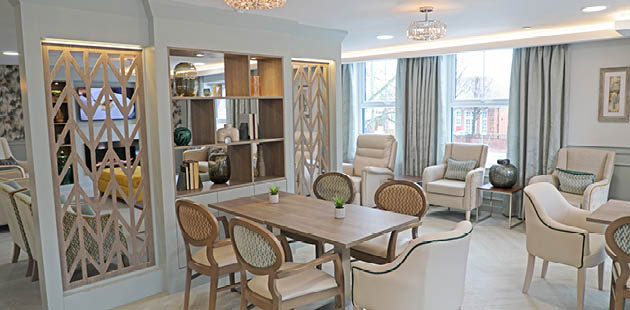 Hermitage House offers several dining areas to enjoy anything from a morning coffee to their evening meal
And if residents are seeking the feel of a local haunt like they may have done before they required residential care, they can hang out in the in-home pub, The Old Coach House. On offer here is a half-pint of bitter, orange juice, or a glass of wine. Just like in hospitality, the pub provides a comfortable space to catch up with friends.
An important thing for residents is that they feel as normal as possible while in residential care and have a feel for life as they would in years past, which is why Hermitage House knew the importance of incorporating a hair and beauty salon, Elegance. With hairdressers and barbers on hand to see to residents' requests, this pamper session is often a highlight of the weekly calendar. The beauty bar features nail painting and makeup for special occasions and to bring a bit of glamour and normalcy.
Following the home's success, Country Care has planned more expansions this year, starting in York and more in the works across this year and next.
THE KEY TO SUCCESS
Overseeing 22 sites, Steven Ireland comes prepared, having worked in hotel hospitality for over 22 years, working his way up from a kitchen assistant. Five years ago, he found himself as a chef manager in Country Court and the rise to operations hospitality manager has been a challenge welcomed with open arms as the group has expanded across the UK.
"Our chairman said to us that everyone village has a pub and every village has a church and he wanted every village to have a care home," says Ireland. "That was the vision behind the expansion, and Thrapston was the most recent village we wanted to give that vision to. The local community like to get involved with our care homes, people like to spend time there and see what's going on."
Country Court UK's success has seen them winning recognised awards such as carehome.co.uk's 'Top 20 Recommended Care Home Group' for four consecutive years, Public Sector's 'Innovation Award', and the NACC's 'Triumph Over Adversity' award. They are currently nominated for 'Residential Care Provider of the Year' in the HealthInvestor Awards as well as 'Health and Nutrition' in 2023's Public Sector Catering Awards.
"I think maintaining success is all about thinking outside the box," Ireland explains. "It's finding ways to keep residents on their toes and find different ways to impress them. Always push boundaries, always try different things."
HOT ON THE MENU
In care homes, creating a well-balanced menu that remains fresh and interesting can be a challenge, especially when considering different dietary requirements. At Country Care, residents will have their share of special themed nights. An event that residents looked forward to was the coronation, and Country Care homes hosted a selection of street party food that included buffets and barbecues to also enjoy in the coming summer months.
"We do a lot of world-cuisine themed nights," Ireland comments. "So we'll have Indian nights, Chinese nights. We recently had St. Patrick's Day, and then St. George's Day celebrations. There's a lot that we can choose from to keep menus in line on a four-week rolling basis in order to keep everything updated and new. It's about trying to push boundaries and not settling for second best."
With potential dietary restrictions, it's important that a chef manager is meeting with residents and their families to find out about requirements to best tailor menus to be inclusive. Ireland's goal is to ensure that all residents remain as involved in the menu process as possible, to include residents' favourites and to ensure they're getting the most out of their daily meals.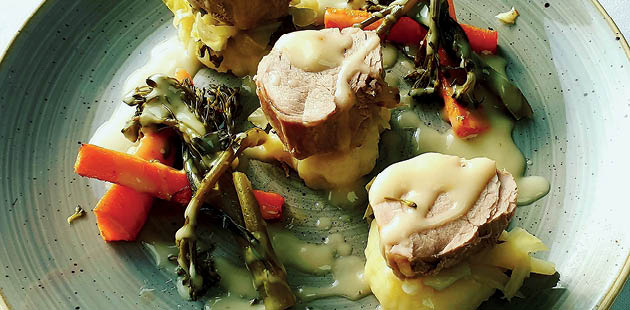 Steven Ireland's pork tenderloin is a hit with residents
During his career at Country Court, Ireland has found trends from chefs on Instagram to elevate menus and tried to adapt and apply them to the care homes.
"In the care home sector there are actually a lot of Michelin-star chefs," Ireland says. "They'll do a lot of things differently and while it doesn't always fit too well into our homes, which can be tough, the inspiration is still there.
"We have an ordering sheet for residents to choose their meals on. Chefs go through that once a week or once a month to see what the residents are actively choosing. If there's, say, lentil stew, on the menu, and it isn't popular we'll take it off and look at changing it. It's all based on feedback."
With a choice of starter, and often a meat-based dish for mains alongside a vegetarian option, residents have a lot of choices with frequently rotating menus. Country Care try to keep things as limitless as possible for residents, giving choice in the same way they might have experienced when doing normal grocery shopping and choosing what to have for dinner each day.
With their care homes across the country ranging from 30-bed establishments to 120 beds, the catering teams definitely have their work cut out for them but continue to deliver above and beyond quality to every resident.
"We're finding ways to integrate technology into our general day-to-day service," Ireland expands. "It'll be for things like if a resident is allergic to shellfish and we have prawns on the menu that night, it'd have an option to view all menu items that excludes that allergen to keep on finding ways to reduce every risk possible. We'd like to develop that for the front of house team to work with."
FUTURE ENDEAVOURS
The future at Country Court UK is full of expansion, wth the company wanting to provide every village with a care home. Bringing luxury to those needing residential care, the group is looking forward to furthering expansion with more homes as well as their in-house development plans.
Trying to improve their quality of care across mealtimes, comfort, lifestyle normalcy, Country Court is finding ways to keep going above and beyond. From pubs inside their homes, to technological advancements to reduce risk, catering teams have a strong future ahead.
"Working in the care sector is very different to working in previous hospitality that I've worked in," Ireland concludes. "It's a lot more rewarding. I've got people who appreciate what I'm doing, what we're all doing, and it's nice. It's great to get to know the residents as well. I'll walk around the homes, I'll meet as many residents as I can, see how they're doing and how their day is going and making sure they're okay.
"The feedback to the chefs is one of the best things to hear and the level of the food we're providing. It's completely different to a hotel and I much prefer it, to be honest!"
Country Court UK was a winner of Care Home Catering's Group Care Home of the Year 2023.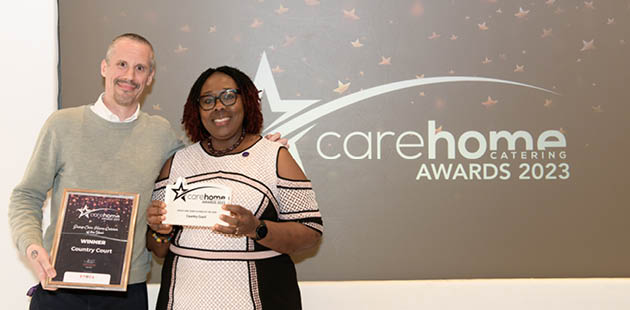 Country Court UK collected their award at the Care Home and Hospital Catering Forum 2023
You may also be interested in…