Interview: Sue Cawthray, national chair of the NACC
As she embarks on her third term as national chair of the NACC, Sue Cawthray talks to Lauren Fitchett about her priorities for 2022, and why it is a crucial time for care catering

POSTED: Mar 9, 2022
It feels like tempting fate, after the last two years, to consider in detail what 2022 may hold. After all, if we've learnt anything from the pandemic, it's not to plan too far ahead. But it's hard to deny the positivity in the air as the care sector starts to see green shoots of recovery.
For Sue Cawthray, and her care catering colleagues, it can't come soon enough. Her second term as national chair of the National Association of Care Catering (NACC) began in autumn 2019, just months before the world was turned upside down by Covid. Care homes were hit with the brunt of the pandemic as the rest of the world locked down.
Plans for the two-year term were in their infancy, giving the NACC room to adapt, move its services online and become an even greater source of guidance for a hard-hit sector. "We had aspirations to go out there and continue to raise the NACC's profile, so we had to start raising our profile and supporting people within the sector more online and via Zoom," Cawthray says. "We've all had to learn a lot to continue to support people."
The challenges care homes faced during Covid are well-documented, from difficulties in securing PPE to widespread outbreaks. Isolation and loneliness became rife, as staff wrestled with moral dilemmas around seeing loved ones and avoiding virus transmission. In some cases, they took the decision to stay away, with some staying in care homes for periods to keep residents safe.
The need for connection was clear, reflected in demand for the NACC's virtual events. "Our online seminars did so well," Cawthray says. "We had so many people attend as it was a way of connecting with people. We had been so isolated and couldn't go out anywhere or live life normally. What the NACC did was enable people who work and live in care catering not to be isolated – to share problems, to look at ideas as to how we can be creative."
While the UK is fast dropping Covid restrictions, caution remains in care settings – the knock-on effects of changing government rules must be considered, and measures reintroduced where cases are confirmed.
But it has, as with any times of adversity, highlighted the best in the sector. Cawthray praises the innovation and creativity shown in care catering, including suppliers which took measures to ease the strain on operators trying to secure ingredients and meals. Some lessons learned over the last two years will be taken forward – the digital webinars, for example, will now have a home on the NACC events agenda, though face-to-face outings will also return.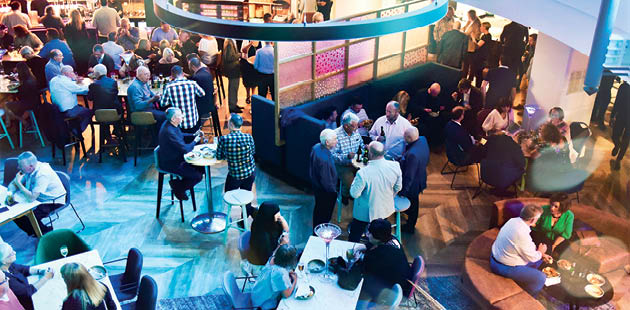 The NACC Training and Development Forum in autumn 2021 marked a return to phyiscal events
At the end of last year Cawthray was appointed national chairman for her third term (her first was from 2007 to 2009), a period which, by all appearances, should be more positive than the last. And work is already under way. So with more room for other issues to become priorities, what tops her list?
First up is mandated training and funding for care catering recruits – something she believes will not only encourage high food standards, but also shore up the sector as a desirable career path and act as a potential solution to country-wide recruitment challenges.
A debate in the House of Lords in January, which saw NACC patron Baroness Barker praise "overlooked" care chefs, prompted a meeting in February between Cawthray, Brian Robb, chair of the Hospital Caterers Association, and Lord Kamall, parliamentary under-secretary of state for technology, innovation and life sciences at the Department of Health and Social Care.
Part of the discussion around the Health and Care Bill, which would restructure parts of the NHS, a key focus for the NACC is the idea of mandated training within the sector, to create a career pathway with skills recognition and opportunities for career development. Care food standards similar to those due to be published for the NHS were also on the agenda, as well as a commitment to ongoing communication between the bodies and the government.
While a formal qualification would help the NACC's aim to improve standards of nutrition and hydration in care settings, Cawthray also believes it would boost the image of the sector, encourage care caterers to take pride in their careers and attract new recruits (in turn becoming a natural fix to sector-wide recruitment issues), potentially tempting candidates away from more traditional catering routes.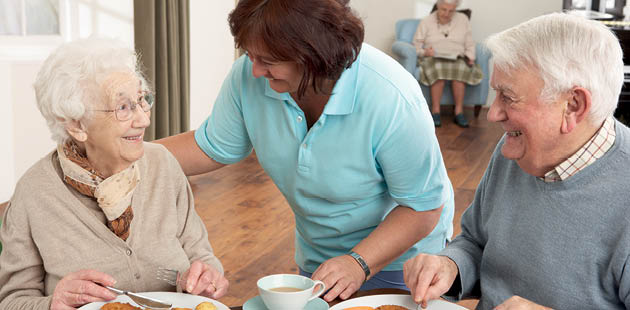 Sue Cawthray says now is a key time for care catering
"There are no mandatory qualifications for people working in care catering," she explains, "apart from basic food and hygiene. You haven't got to prove you can cook, but if you work in a care home [outside of catering], you have to have a diploma.
"This is an opportunity to focus on the need for recognition for care caterers. We want to stress the fact that there needs to be funded access and mandatory training to give them the credentials. It isn't just about making sure they are trained, it's about giving them credentials so they feel a part and parcel of the care team."
After all, while the core skills required to be a chef are essential, the list of complex challenges care caterers face says it all – from dysphagia to dementia and unique nutritional needs to allergies. The factors that go into creating a care setting menu are numerous, and change from resident to resident.
While any outcomes from the meeting are yet to be seen, Cawthray called it a "major breakthrough" in communication, with Lord Kamall vowing to take away their points for consideration.
Cawthray's passion for care, and catering in particular, is evident, but she says it was initially an area she fell into, having started out working at the BBC. "If somebody said to me all those years ago that I would be working in this sector and had a passion for care catering I would have laughed," she says.
Charity volunteering first sparked the care bug, and, 28 years on, she hasn't looked back. Today, she is chief executive of Harrogate Neighbours, which she joined in 2005, a cause set up in the late 1960s by churches in the area to provide care and support for older people in need living in Harrogate.
Today, it has evolved, providing a variety of care services, including the Harrogate and Ripon Food Angels, a meals on wheels initiative set up to fill the gap left by the closure of a local service. It delivers over 600 meals every week to people in Harrogate, Ripon and the surrounding areas and last month marked its 10th anniversary by bringing together Yorkshire chefs to cook the day's meals.
At the time, Cawthray put its success down to its team of volunteers past and present, adding: "We hope that in the next 10 years we can grow and develop this vital service to reach even more people in need of a hot, nutritious meal delivered to their door."
It was thanks to a flyer which landed on her desk, inviting her to a conference in Coventry, that Cawthray first became involved with the NACC. She has now been a member for 18 years, having also served as regional chair and regional secretary for the north. In 2012, she led the NACC to gain the Guinness World Record for the most identical community meals delivered in three hours. She is, it's fair to say, a force to be reckoned with.
Cawthray's third term as national chair comes as care catering continues to undergo something of a transformation. A sector which has previously faced stigma, catering teams are keen to dispel tired stereotypes of care cooking. A renewed sense of pride is felt in kitchens, and the complexities faced and creativity required to be successful is catching the eye of chefs in hospitality looking for a change. At the heart of that change is perception, she says.
"In my time in the sector there has been a huge focus on the importance of care catering – catering for the elderly is not just about meat and two vegetables," Cawthray says, adding that awards and culinary competitions for care chefs had done a lot to highlight innovation in the sector.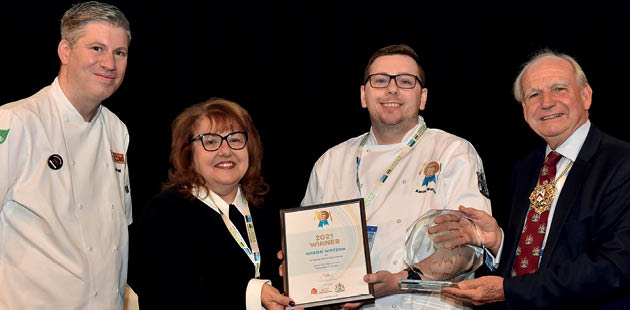 Sue Cawthray, second from left, presenting Aaron Watson's NACC Care Chef of the Year Award in 2021
"That's important, but it's about what goes on to get those meals on plates," she explains. "Somebody once said to me many years ago that uneaten food is of no nutritional value. It's about ensuring that what we might think of as good nutrition may be completely different for an older person – I would have my porridge with skimmed milk because that suits my lifestyle, but an older person might need their porridge with cream and full of the goodness that adds. We have to educate people to ensure that older people have good nutrition. Care cooks have become care chefs."
It feels like the opportune time for the NACC to secure the wishlist it took to the meeting with Lord Kamall. Chefs are now using social media platforms to promote their cooking, bringing together other caterers to share best practice. "We have had to work hard to change the perception that chefs don't work in the care sector," Cawthray says. "Sure, they work in restaurants, they work in hotels, but they also work in care homes, providing excellent quality food. We all want to have choice and beautiful-looking food. Why should elderly people be any different?"
As the sector recovers from the impacts of Covid and settles into the new normal, another focus for the NACC is to understand what its membership needs looking forward. The group provides support to everyone in care catering – from homes to suppliers – hosts events, including its training and development forum, which is this year planned for October, Care Chef of the Year competition, NACC Awards and Meals on Wheels Week, and campaigns on behalf of its members.
"Our key aim is to support anyone who is working within the care catering sector – so whether you are a supplier or a provider, provide care home catering, support those with learning difficulties, offer domiciliary care. We are here to support," she says.
"That's our main aim – to help the sector, and we want to grow our membership. The membership has stayed static [during the pandemic], which is good, but I think we have lost some care homes, people have really struggled to survive."
As 2022 gets under way, there is plenty to do. Whether the meeting with Lord Kamall will yield results is yet to be seen, but Cawthray will continue to bang the drum for care caterers and demand more on their behalf. The sector will continue to rebuild from Covid. But Cawthray is keen to stress the importance of the moment.
"Care catering has never been as important. We have people with Covid, people with many health issues and we have to ensure that people living in our sector have access to good nutritional care and support. We have to focus on that," she concludes.
"We just want to carry on making sure we can do that. The elderly population is growing, people are living longer, people are on more medication – it's crucial we keep doing a really good job in care catering."
You may also be interested in…