Chef focus: Douglas Hemlin at Sharston House
Douglas Hemlin, chef at Sharston House in Knutsford, talks to Lauren Fitchett about how his career in five-star hospitality has influenced his drive for quality in care catering

POSTED: Mar 10, 2022
From hotels on Australia's Gold Coast to gracing the pages of Vogue, Douglas Hemlin's career as a chef has taken him around the globe. Having started out with an apprenticeship at the Hilton in the late 1970s, he has since cooked at five-star hotels and resorts – and even for footballer Pelé.
His return to his roots in the north-west of England five years ago (he moved from Manchester as a teenager) kicked off a new chapter in care catering – a sector which he says he wouldn't have imagined himself in, but one he now finds incredibly rewarding.
As chef at Sharston House, in Knutsford, he brings a wealth of experience to the kitchen and has toured other Kinglsey Healthcare kitchens to share best practice. He is part of a trend of chefs with hospitality backgrounds signing up to care catering – something Hemlin, 61, says is welcome news for the sector.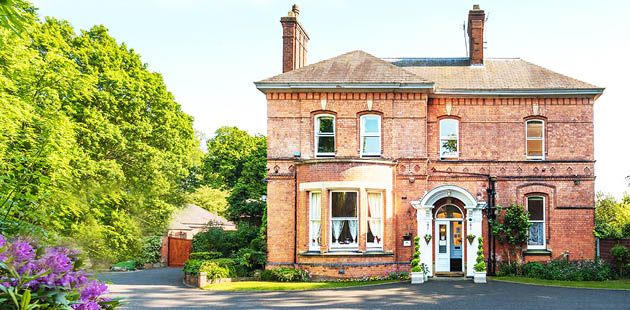 Sharston House in Knutsford
"Chefs who work in care establishments with good experience can improve it, and can pass down their knowledge to younger chefs," he says. "A job is what you make it. I came here and told Kinglsey we can make changes, and my management has been very supportive."
After six years with Hilton, Hemlin was sent to its finishing school in Basel in Switzerland, a tough, fast-paced environment, before stints at Hiltons in Zurich and Geneva. Soon after, he became executive sous chef at St Pierre Park Hotel in Guernsey, where he spent five years before, in 1988, being contacted by the Hyatt hotel group with an interview offer ahead of a wave of hotel openings in Australia.
"What I didn't realise at the time was there were about 2,000 applicants but they rang me because they knew of me," he says. "They picked 20 chefs from Europe, five English, five French, five Swiss and five German."
The opportunity saw him spend a jealousy-inducing few years travelling around Australia opening new hotels – including the Hyatt in Canberra (on the historic Hotel Canberra site) and others on Queensland's Gold Coast, Brisbane's Sunshine Coast, Adelaide and Melbourne.
A role at the Ramada Hotel followed, and he worked with MasterChef's John Turode at catering events (it was during this time that his food was featured in a Vogue photoshoot), before moving to Queensland to work at a resort. His final position in Australia was as executive chef, overseeing 80 staff members, at the Sea World resort on the Gold Coast.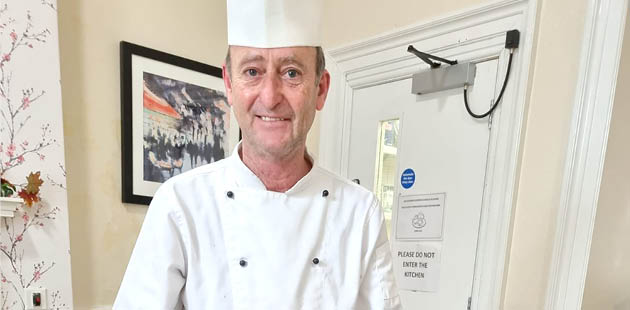 Douglas Hemlin
It might sound like an extreme lifestyle change, but Hemlin says there are threads which run through each of his roles, including that at Sharston House. He approaches the home as though it is a five-star hotel, with his unshakeably positive attitude ensuring he strives for the best.
"When I came back I was offered jobs in hotels and I thought I would do something different," he explains. "I saw this job and thought I would give it a go. It's like anything - any job is what you make it. That's the attitude I have."
One difference he noticed soon after settling in was the need for care chefs to factor in budgets, and provide nutritious, delicious dishes without breaking the bank. "We have to be very innovative with our menu choices," he says, and, using chicken as an example, adds: "But there are heaps of different chicken dishes and you can do a five-star dish with whatever you have. You do chicken, leek and potato in a fricassee, or in an a la king pie. There's loads of things you can do, it's just the way you look at it."
The home operates four-week menus, with different choices for residents every day. Hemlin orders vegetables and meat from local suppliers, which he says, with forward planning and organisation, is achievable for most homes. And when it comes to deciding which dishes make an appearance, there are firm favourites he knows will always go down well, particularly with a fine dining twist.
"Residents like lamb hotpot," he says. "I put all fresh vegetables with it, butter on the potatoes and really crisp it up. They also love a curry with rice and poppadoms – there's one man who likes to have a curry once a week so we do that." He says fish on a Friday is always popular, and that his recipe of poached fish, served with a tomato and cucumber salsa and hollandaise sauce, had been a particular hit.
For care chefs, communication is crucial, he says, and liaising with both residents directly and their care teams enables kitchen staff to be more flexible and better support changing health and nutrition needs.
"I love to go and talk to residents," he says. "Chefs need to do that, to ask them about their likes and dislikes, to make sure they are getting what they need. The nutrition is the most important thing – residents need good nutrition and we have to make sure we are giving them that. We work with all the staff – they can tell you how people are getting on and we can try and help. It's not just cooking, it's more personal than that."
Themed events and activities, which include menus to match, are an important way of engaging residents with dishes they can relate to, he says, giving Burns Night in January as an example, when the home created a Scottish menu.
A key pillar in his ethos is cooking fresh – something he says all chefs should be doing.  "You are only as good as your produce," he says. "Fresh food and ingredients and putting those into dishes that residents can relate to, that's the key. No frozen vegetables, no powdered mashed potatoes."
While his work in care catering may not have been part of his original plan, he says the industry is a rewarding place to work and a path he hopes other chefs will consider. "It's good for chefs to come into care homes because things have changed," he says.
"It's changing all the time, it's evolving all the time. It's not a restaurant, but you have a proper dining room, it's laid out lovely and you can deliver the food to match that. You can improve it step-by-step.
"I don't look at it as a care home, I look at it as if it's a hotel. That's the way I see it. It's lovely – it's a pleasure to come to work, make a difference and see people happy."
You may also be interested in…