Bite by bite: Dementia dining innovation
We explore how dementia dining innovation in care homes is making sure every resident feels included at mealtimes.

POSTED: May 20, 2022
The way our food is presented, the surroundings in which we eat it and the company with which we share it are integral to how happily we leave the table. After all, as they say, we eat first with our eyes. The same is, of course, true for people living with dementia – but what adds up to a positive experience is likely to need extra thought.
From the buzz of a busy restaurant to the expectation of sitting down for a meal, there are few areas more complex in care catering than dementia dining. Tweaks to make residents comfortable must begin far before a meal starts, encompassing how a table is laid, the colour of the crockery and background noise. For example, people with dementia may struggle to use cutlery, while others find it difficult to sit still, instead preferring to wander and roam around. A sit-down three-course meal is unlikely to overcome either obstacle.
Finger foods, however, can be a solution, prolonging independence and dignity, enabling residents to eat at their own pace and including everyone at mealtimes. The end result? A happier resident and a drastically improved food – and, in turn, nutritional – intake. The challenge for chefs has long been how to pack high levels of nutrition needed into small, bite-sized portions, with continued use of finger foods risking undernourishment. But the team at Runwood Homes Senior Living has set out to solve the issue, launching a new bite-sized food initiative headed up by group development chef James Cotton and group hospitality manager Chris Williams.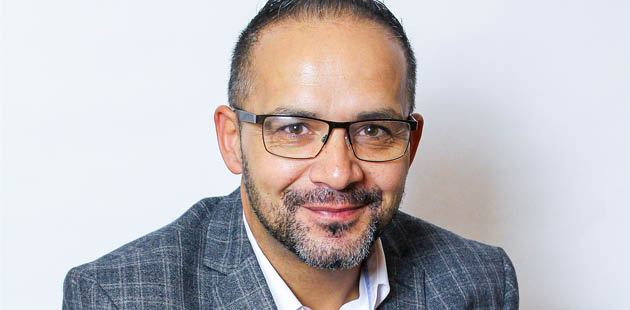 Chris Williams of Runwood
Around 70% of all care home residents have dementia or memory problems, the Alzheimer's Society says, but the initiative is also geared up to benefit residents with Parkinson's, arthritis or those living with the effects of a stroke, Cotton says. His aim is to create a menu of finger foods that aren't buffet-style, with dishes targeted so far including chicken and stuffing, meatballs in tomato sauce, cod in parsley sauce and sausage and mash.
Williams says: "It's so important that we have a person-centred approach to everything in our homes, and mealtimes are no exception. Making all foods accessible that wouldn't normally be eaten with fingers is key to this initiative, be it Lancashire hotpot in the north, chicken balti in the midlands or rice pudding with jam in Essex."
Their inspiration for the idea arrived after spotting a gap in the market. While the pair says there are similar initiatives available, developing their own means dishes can be tailored to individual esidents' needs and tastes. "The idea is to get a full meal but in bite-sized pieces," Cotton explains. "The difference between what I'm developing and other ranges is that with a chicken bite, mine will also include the stuffing, for example. It's all the flavour in one piece."
Their ideas - including a half and half sausage and mashed potato bite and apple crumble encased in a crumb coating – have already started gaining traction on social media, and while Cotton says there is still plenty of work to be done, it is a key focus for Runwood, and its 76 homes, for the year. "What we are hoping to do is create a full week's menu of recipes and do a trial across the board, even with residents who have capacity to use cutlery," he says. "We want to be able to have a cutlery-free week. It makes sense because the idea is that everybody should feel included in mealtimes. Quite often residents who struggle to use cutlery can feel quite isolated."
He says some residents with dementia are unable to sit and eat a meal, instead preferring to be on the go. The bite-sized meals are easy to grab, and mean residents can return for another portion. Their focus is to find ways of presenting bite-sized versions of foods not traditionally available in those formats. His apple crumble bites, for example, come with a dipping post of custard. "Fish and chips are very straightforward – it's just fish goujons and chips," he says. "So the focus is on dishes that you can't just use your hands with, such as mashed potato and crumble. The focus is to make those meals finger friendly."
Inspiration for how to approach the initiative came in the least expected of ways, says Cotton – clearing out his freezer. "It started with me and an ice cube tray," he explains. "I was tidying my freezer at home and I came across an ice cube tray and I thought that it was the perfect bite-sized piece. A week later I came to the kitchen a nd started. The dishes so far are really beneficial nutritionally. For the chicken I blitz it down to a purée and use cream and eggs, which help to set it but also fortify it. It's grown from there."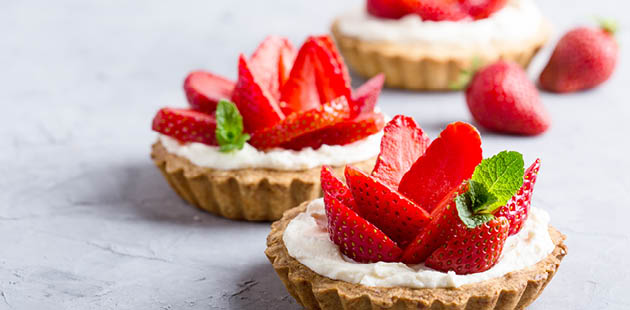 Finger foods can help residents who struggle to eat with cutlery
Cotton, who has a background in hotel and restaurant catering and joined Runwood in 2018, says the finger foods are an example of how creative care chefs must be in their work. "There is a great stigma about care food, but chefs have got to consider modified diets, diabetes, medications and health conditions – every single care home is also making cakes and puddings from scratch." "The main goal is to enable our residents to enjoy foods and tastes they always have done," concludes Williams. "This challenges us to be creative in finding innovative ways to deliver bite-sized versions of classic dishes that can be picked up and eaten in one mouthful. We are delivering training sessions on this over the summer, with the first session at the end of June." 
Attention to detail
"Dementia care is one of those things – you either have a passion for it or you don't, and I do." Leon Smith's devotion to his work is evident. He has been with Barchester Healthcare for six years, supporting its homes in all aspects of dementia care, from training to dining. Previously, he led dementia training in another care group and, before that, managed homes. But his professional expertise comes with a personal touch, having witnessed family members and a friend live with the disease.
"I'm not only seeing it from the point of view as a professional but also as a family member," he says. It is this experience which has spurred on his determination to include families as far as possible in their loved one's care. "Families find it hard to bring their loved ones to a care home, especially if they are living with dementia. You can reassure them you can live really well with dementia and give them a better idea of dementia care."
As part of its Memory Lane initiative, Barchester has dementia champions who, Smith says, becomeeyes and ears for residents. "The way we work is dementia champions will really get to know the residents," he explains, "and their likes, dislikes and preferences, which they'll pass onto the kitchen. The chefs will come out and meet the residents and the family. Families may have religious or special dietary needs, and I ask families what food [the resident] liked in the past, so if all else fails we can revert to that. While chefs are in the kitchen they might get a bit of feedback, but they need to know who people are, who is losing weight and so on - that personal touch is important."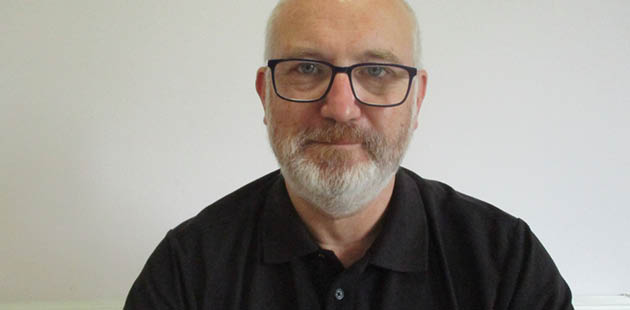 Barchester's Leon Smith
After all, flexibility is key. Smith says people with dementia can risk becoming pigeonholed. "Your tastes change as you get older, what you liked when you were younger may completely change," he says. "Knowing the individual is really key." His support for residents with dementia begins before a meal is served. "We would never make up a table and leave it made up throughout the day," he says. "We would only do that when it is half an hour before a meal, as it becomes a visual clue that we are eating. Some residents like being involved in that process."
For many people living with dementia, short-term memory loss is one of the main symptoms. This can make it difficult for residents to choose from menus – even a short amount of time passing can mean choices are forgotten. "If I was to give a resident a menu, they choose and then I was to go away for 15 to 20 minutes, that can cause a lot of confusion as they try to remember what they ordered," Smith explains.
"People may forget they are hungry, they may not get the hunger pangs. We show people the food. That is one of the best ways to support somebody with dementia. I have had situations where people have been confused until I have shown the food to them, and then they will say 'I will havethat one'."
From then, it becomes a case of considering the various factors of the meal. Noise which may be acceptable to others – including care staff – may be distressing and disorientating to a person with dementia. This can particularly come into play at busy times of the day, such as mealtimes..Dementia can worsen the effects of sensory changes, by altering how a person perceives external stimuli, including noise. Creating calmer environments and considering factors such as turning off televisions and radios can lead to a more relaxing experience.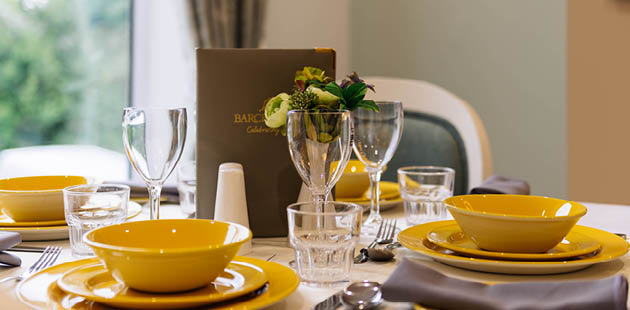 Crockery which can help those with dementia at mealtimes
Lighting, too, must be considered. Smith says while many people enjoy the cosy feel of a dimly-lit restaurant, for people living with dementia, who may face visual difficulties, it can cause distress and confusion. A well-lit area is essential, and for those who continue to struggle there are extra measures to help. "Not everybody needs a specialist plate. We will start off with a basic table setting. We want it tolook nice but there are changes we can make. One of the first things you can do is to limit what's on the table," he explains. "If you are someone who has forgotten some of the rules around eating and what goes onto a table, it can be quite intimidating. We reduce that down for some of the residents and don't overcomplicate it."
If more support is needed, Smith says different-coloured crockery, in particular yellow and blue, can make it easier for people with dementia to view what's on their plates. Plates which have higher rims, for example, to enable easier scooping of food, can also be put to use. At the end of the day, decisions come down to each resident and their needs at the time. "The individual approach is the cornerstone of what we do. The trouble with dementia is people get pigeonholed, but there's always a starting point and it's a journey. You can live at a certain stage for many years. It's not a straight line and that's something we need to get across to anybody working in care."
You may also be interested in…