Care group crowns its chef of the year
Sister care groups Runwood Homes Senior Living and Sanders Senior Living have crowned their Care Chef of the Year.

POSTED: Jun 10, 2022
Chefs from Runwood Homes Senior Living and sister company Sanders Senior Living have competed to be crowned Care Chef of the Year.
Six finalists took part in the live final at Billingsgate Market on 8th June in the hopes of taking the title home. The competition was organised by Chris Williams, group hospitailty manager, and James Cotton, group development chef, and was launched in February.
The finalists were Craig Martin at Lower Meadow in Warwickshire, Michael Kirwan at Redbond Lodge in Essex, Tomasz Piechowski at Ivy Court in Doncaster, Cass Spurgeon at Madelayne Court Essex, Oscar Dean at The Belmont in Worcester and Gary Edson at Leawood Manor in Nottingham.
The finalists, along with Williams and Cotton, came together bright and early at the market, and as part of the day enjoyed a market tour and fish masterclass from CJ Jackson. The finalists had 60 minutes to then prepare and cook their chosen dishes, before serving to special guest judges.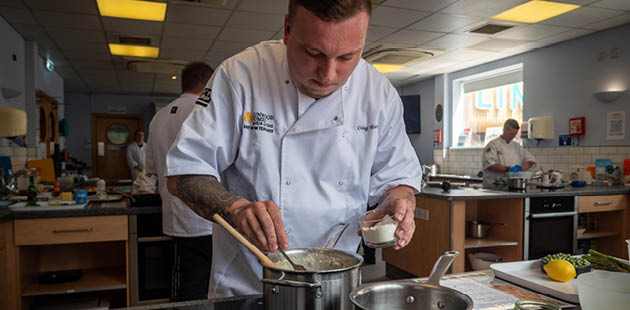 Chefs in action during the live final
The dishes set a high standard and the judges said they had a tough time picking a winner. After much deliberation, they announced Edson at Leawood Manor as the winner for his lamb rump dish, which was prepared with spring onion mash, minted pea purée, carrot purée, braised red cabbage and a red wine jus.
Edson received his award, along with a prize, and his dish will become a 'Runwood Certified Dish' and feature on menus across the country. Martin received second place and Kirwan was awarded third place.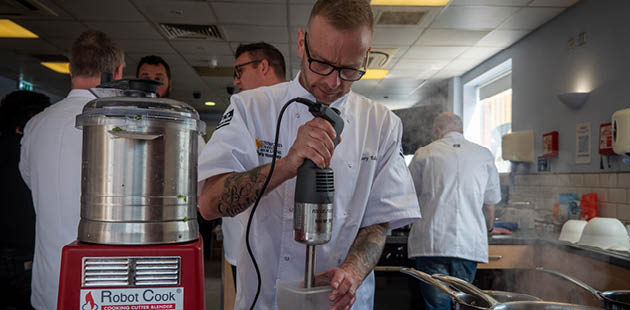 Gary Edson was crowned winner 
Cotton said: "I am so pleased with how yesterday's event went. It was a great day in an iconic venue with lots of fantastic food. Thank you to everyone at Billingsgate Market for educating us all and being such fantastic hosts and thank you to everyone who was involved in the event. Of course, a big well done to our finalists and winner too."
And Williams added: "It was great to see the competition and the live finals go so brilliantly and to showcase the talent and passion of some of our chefs across the group. Food plays a big part in the care home setting and so organising an event like this one reflects how much we as a company value the importance of good food in our care homes."

Gary Edson was crowned winner of the competition with his lamb dish
For the latest care catering news and features, follow us on LinkedIn and Twitter.
You may also be interested in…